Are you looking to improve your SEO for your travel website? If you missed Part 1 of our SEO for travel website video series you can find it here. This is a how to improve your SEO series that I'm sharing with travel professionals in the travel industry. If you don't know me I'm Dorene Wharton – I've a tourism marketer and strategist I've been a marketer my entire career for over 20 years in all facets of marketing and I learned SEO from the best minds in the field, taking hundreds of hours of courses and workshops, with reliable sources such as Moz.com, Neil Patel, and Brian Dean from Backlinko and I've applied these skills to my own websites and with helping clients in the tourism industry. There is alot to know about SEO, too much! so in Video 2, I thought I would share some important aspects you need to know before we get into the tactics. These are my SEO for travel website mistakes I've made — early on – that could have saved me alot of time and energy. For example, I jumped right into keyword research insteadof thinking through how SEO could work for my entire business – and my entire website. I also didn't pay attention to the technical aspects and the tools that could fix these areas, which were readily available. ​
SEO for Travel Website Tips:
1. SERP – This is the Search Engine Results Page
The search engine results page is the page you see once you type into the brower on any website. It is not just a list of top ranking articles and posts both organic and paid – it also includes the knowledge panel, people also ask (PAA) sections, featured snippets (tables, calculators, lists, pictures and stories). There are lots of sections and engaging content to easily find information.
Why this matters: There are several areas of the SERP page that SEO impacts. Ranking #1 on this page isn't the only way to improve your visibility on the internet. Developing quality content that helps viewers with their search, and what they are looking for it the goal.
2. The Marketing Funnel and Why It Matters in SEO
The marketing funnel, also known as the buyers journey, are the steps a traveler goes through from the problem they are trying to find a solution for (searching for travel) to the time they buy (conversion). This model is used for everything in marketing — you use it to organize your website, how you develop ads for your products, for email marketing for everything because we have to understand the stages a buyer is going through to know how best to communicate to them — and help them.
The funnel also works the same way with SEO. There are different types of search people are doing at different times in the buying process.
Informational searches: 50-80% of all searches – This is in the awareness and dreaming stage where travelers are looking for their next travel solution. They look at pictures, guides, read tips and when to travel to certain regions.
Commercial searches: Are travelers that are moving down the funnel and narrowing down their options such as reading reviews, making comparisons, and this is where ads start to show up.
Transactional searches include: This is the type of searches where the traveler looks for booking, they look at price, specials and this is where high ad competition comes to play.Why is this important – different SEO strategies and different types of SEO are going to impact the different types of searches by travelers — you are going to do different things on your website to impact how the traveler will learn about you, gain confidence in you, trust you and then buy from you. *Moz SEO learning center
3. 5 important aspects of SEO to maximize your visibility
To achieve our goal of maximizing visibility on the internet we have to look at a number of actions consumer take including:
Rank – Where you rank on the SERP – often the other actions will result in higher rank, but rank is not the only important aspect of SEO.
Clicks– clicks to your website, to other articles to your pages.
Visits– new and returning users to your website and allowing them to
Links – is seen as the quality source – an endorsement by linking as a quality source to their website. It's like reviews
Shares – Don't underestimate the value of a share, it encourages visits and clicks which will aid in the performance of your website views.
Why this is important: Some people think its just about ranking – its not – often ranking or higher ranking can be the result of all the things that SEO does. I can assure you I have articles I have written on my blogs that are not even on the top page of google,and I've made sales. So its important to know that. *source: Moz.com resource center
4. The 3 Types of SEO and how they help achieve the goal of more visibility
It starts with sharing the types of SEO 1. On page SEO- Everything you do on a certain page to help with SEO such as: Picking Keywords you can rank for such as: titles, meta descriptions- explains what the page topic is about, copy on your website and quality blog posts and articles.
Why this is important: To Improve visits, clicks (Stay on page longer with good and helpful content, read other articles), Shares, Links
2. On site SEO –SEO that is done across your site to improve such things like clicks, time on page, views. It includes: Good internal linking structure- across your pages, Permalink structure – URL addresses, Site maps, Categories and Tags, Archives
Why this is important: To improve clicks, visits, and shares
3. Off Site SEO –The things that help your SEO off your site, when other websites link to your site, or share your site and articles. This includes several kinds of backlinking strategies
Why this is Important: To improve rank, links, and shares
5. Domain Authority (DA) and Page Authority and Why it Matters to SEO
Domain Authority (DA) and Page Authority (PA) Domain Authority is a measure by Moz.They assign a Domain and Page Authority to every site/page on the internet. It's a relative measure and meant to judge how likely a domain (or site) is to rank in search engines compared to all other sites. It's a number from 1 to 100. The higher the DA, the more likely the site is to appear in search results.Page Authority (PA) is similar to Domain Authority but is assigned at a page level, rather than at a domain level. refer to both pages and posts.This means that different pages on your site may have a different PA. Will your DA and PA change? This means that it is quite possible for your site to regularly go up and down when Moz updates it (usually every 4-6 weeks).It's easy to become concerned when your DA drops. However, this is only a concern if your DA drops while the DA of similar sites to yours increases. Having a DA of 30+ allows your site to be much more competitive on keywords. **Here is an important thing to remember — When you do keyword search and you find a golden word that has good traffic and low competition — it doesn't mean you will be able to rank for it. and you may wonder – why is my competitor doing well with this work and we're not?
Watch the next video in this SEO Optimization series and I'll show you how this all works. (coming soon)
*source: Build blog freedom- Sharon Gourlay
6. The key steps to create your SEO plan
The biggest mistake with SEO is jumping right into SEO keyword search and not developing a plan for your entire business, beyond the next page and article. If you plan your content wholistically, and do your research first – then move into onpage optimization, on site activities and off page SEOIs getting all excited with finding key words – and writing copy and articles for your website but not having an actual plan for SEO for your whole website not just individual pages or articles — because everything needs to all work together.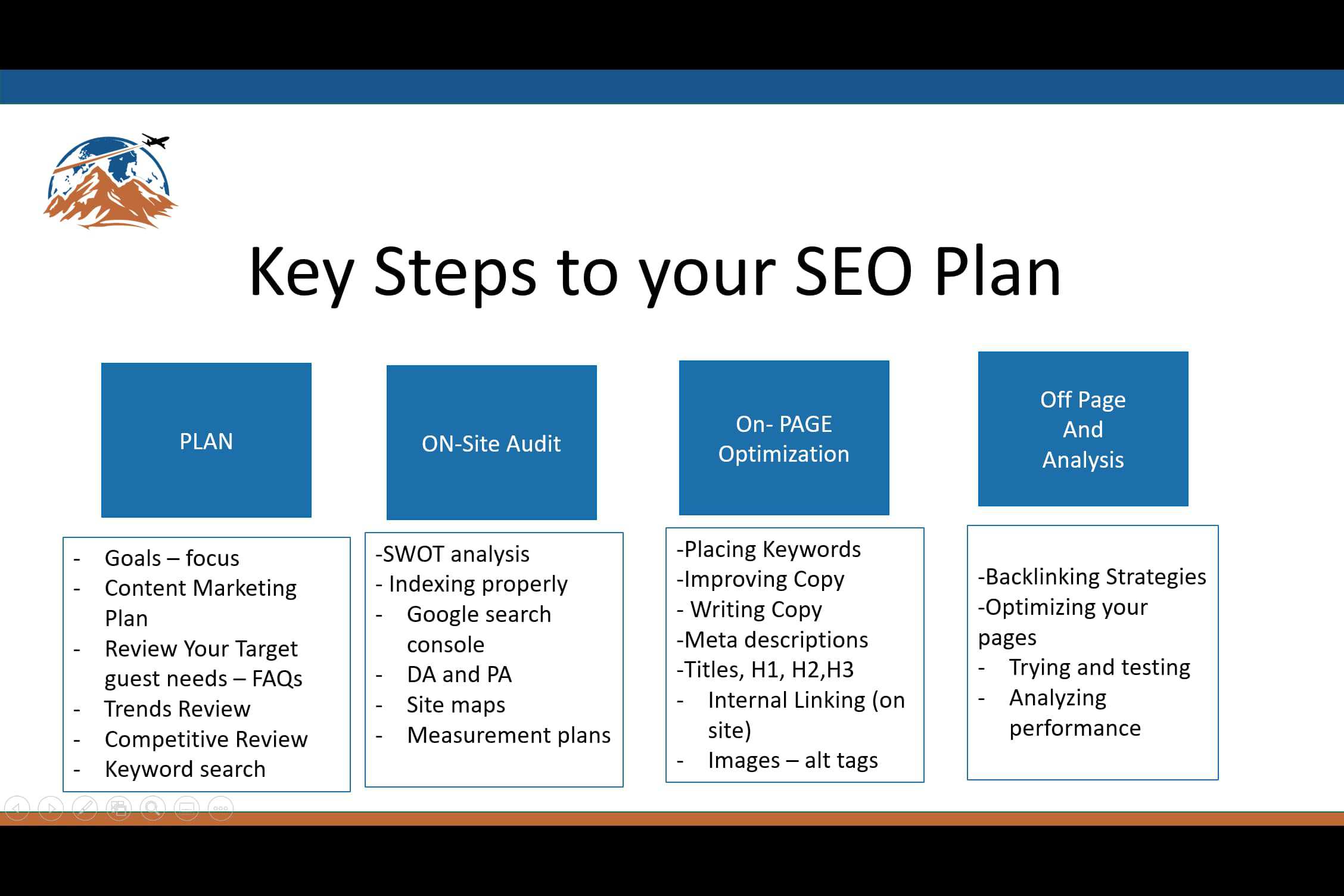 Thanks for watching. How has this SEO for travel website video helped you with your SEO planning? Let us know in the comments.
Stay tuned for our next SEO video where we show you examples how to create your SEO plan and do a proper keyword search.
Watch the rest of our SEO Series here:
Video 1: SEO what you need to know
Video 3: How to do an effective keyword search and create a plan
For more marketing resources you can find them here.