We believe that the better your tourism marketing, the more you can show your guests how to respect, appreciate and create a better world.
As full-time travelers, we have booked fantastic hotel rooms, joined memorable tours and enjoyed attractions, but often, we are surprised to see so few guests?
It wasn't because these tourism brands offered a poor experience. They FAILED to connect with their IDEAL guest nor STAND OUT amongst all their competitors. OFTEN, these problems can be avoided with marketing fundamentals. But as a tourism owner and operator, we know you are BUSY. You have to run your business every day, who has the time or energy to figure-out marketing that works?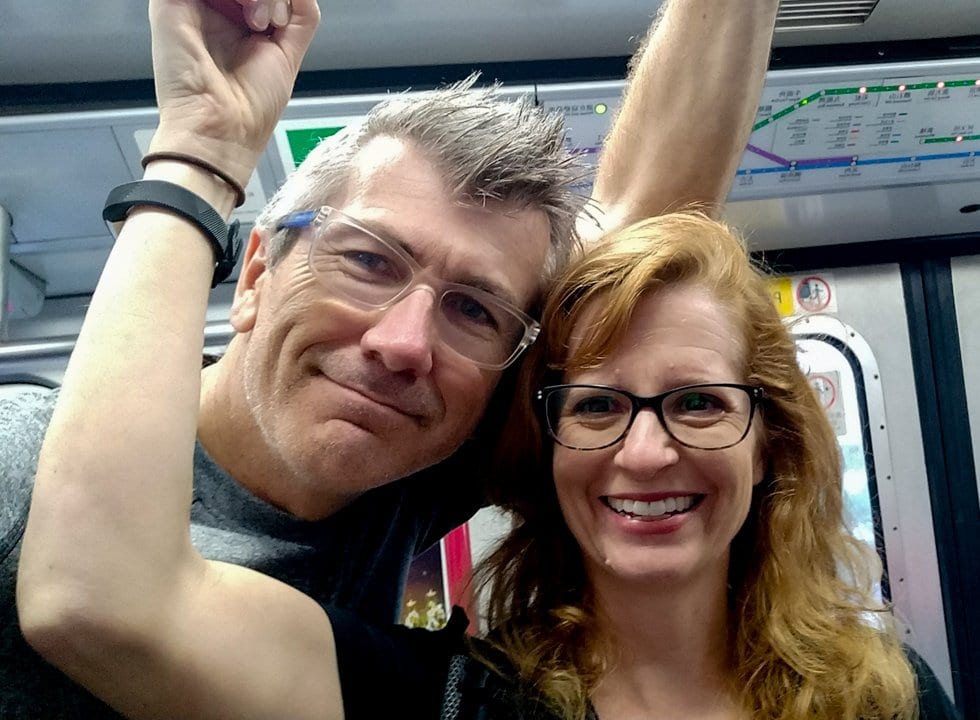 HI! WE'RE DORENE AND TROY
25+ year Marketing, Media and Video Production Experts Who Travel Full time.
I (Dorene) had nothing left. 
I was done. I was completely disillusioned by what was happening at work. It was like I was in a wrestling match between my values, and what I was supposed to believe in. 
Because of it, I was prepared to walk away from a successful marketing career I developed over my entire working life.
I was told that profits came first, unfortunately, what was right for our customers and our employees was not the top of the list.
I don't believe that profits should ever be ahead of inspiring and caring for our customers and treating our staff the way I would want to be treated. In fact, an environment of respect and service for customers AND staff enables a successful business.
Purpose and values are everything.
Don't get me wrong. I learned many of my valuable marketing skills in the corporate world.
I grew up in the corporate world, learned valuable marketing skills there. I created effective marketing campaigns for iconic brands like Budweiser, Bud light, Stella Artois beer, Jim Beam, Macallan Scotch, Makers Mark Bourbon; just to name a few. I built successful ad campaigns and promotions, award-winning social media and digital marketing strategies, launched over 100 products, and worked with some fantastic hotels, bars, and restaurants. I made a lot of profits for those companies too. Those eighteen incredible years honed my marketing, management, and leadership skills.
I felt stuck. I valued the staff and team I worked with, and felt helpless to make a move. The void in my life was too painful to ignore.
I dreamed of a world where I could:
– work with people who also seek out meaningful work.
– work with people who want to make a difference in the world.
– work in an environment where people respect and appreciate humans as individuals.
– help people in an industry that can positively change the world.
Isn't Life is too short to not do meaningful work?
It's the question that led to making a massive life overhaul.
With my husband Troy, we changed our lives and careers completely.
We left our home country of Canada, our longstanding careers, and our traditional lifestyles to travel, live, and work full time. Our goal was to experience more of the gifts that travel gave us.Travel made us better people, it helped us become better versions of ourselves. It helped us understand, appreciate and respect our world.

We wanted to find meaningful work and I was convinced back then, that my marketing career was dead.
OUR FIRST VISIT TO COLOMBIA CHANGED EVERYTHING
We booked a tour in Colombia and we started talking to the owner about his business. He had a fantastic product, in a growing market, at a competitive price, 
but he was failing to connect with travelers to book his tours.
I offered to help, and we spent the next few weeks together, making changes to his marketing strategy, writing a new plan to better attract guests and persuade them to buy his tours. 
The tour owner implemented these marketing strategies, and his business started to grow, he attracted new guests and increased both his sales and profits. He now ran his business based on what was important to him, consistent with his purpose and values.
 He asked me,  "why do you want to walk away from your marketing career? Your guidance helped me turn my business around." I answered, "working with you, I realized it wasn't marketing that I should be moving away from, I need to move toward helping businesses that want to make a positive impact to their customers and to the world. Like you."
Thanks to many tourism businesses like yours, you played a huge role in changing my views of the world.  
 If it wasn't for travel, I wouldn't be the same person I am now.
So, Travel Life Media Was Born
We coach, train and consult tourism businesses with their marketing problems while designing a business that is purpose driven and makes profit too.  We use our 25 years each of skills in marketing (Dorene) and  TV and Video production (Troy) to create content and solutions for the tourism industry.
 Every Tourism business has a purpose. It just needs to be uncovered and communicated to your future guests.  
Tourism is the greatest accelerator for change.
You and your tourism business have the power and ability to change views of your city, your town, your country, and you can create tolerance, build common understanding, and abolish prejudices. 
You can do this with your warm hospitality, your welcome, your safety, comfort and the different perspectives you share, your educational and cultural stories and experiences.
It doesn't matter if you are  a hotel, or tour, or transport or attraction. YOU make an impact on changing humans for the better. 
 But you have to make money too. Purpose is the enabler that leads to profits.
WE CAN HELP YOU WITH THAT
Creating a great experience is good, BUT having a business that allows you to enjoy a satisfied life (purpose), make money to pay your staff, and earn an income is important too.

What Our Clients Are Saying
I very much enjoyed working with Dorene on SEO and copy for my site. Dorene is knowledgeable, prompt, collaborative, and very helpful! I appreciate that she shared her expertise and knowledge along the way so I could learn throughout the process as well. Overall, I had a very positive experience, was very happy with the work she did for us, and highly recommend her/Travel Life Media to travel/tourism businesses!
What I liked most about working with Dorene is her effort beforehand to understand us first before taking any other steps. She organized enough space to carefully listen to our issues, find our purpose, our reason for existing. This gave me a very good feeling that she was going to 'get' us and understand our needs. It was amazing to see how she handled that process and the great amount of impact she's had on not only our marketing, but on the whole organization, communication and our team development. The way that we're approaching our challenges now and making decisions is different than before we started working with her.Working with Dorene is very easy, she's very knowledgeable and experienced, and that's noticeable right away. She's always well prepared, professional and follows up with everything that was agreed on. I'm very grateful that I got to know Dorene and I would absolutely recommend her to anyone.
We reached out to Dorene pre-Covid to help us think through a long term marketing strategy for our Finca / coffee farm in Jardin. Then COVID! Dorene has been extraordinarily skillful and pro-active in helping us pivot our marketing approach to domestic travel while also positioning us for the future. She took action right from the start and posted our website on various Colombian ex-pat and Colombian travel sites. We immediately started getting domestic interest and reservations. Yes, we've been booked out solidly since November, primarily because of Dorene's direction and support! Her guidance on building a new website and steering us towards a much more professional look and feel has been hugely helpful! I can't recommend Dorene enough.You'll love working with her!
Dorene is knowledgeable in so many aspects of marketing and business and now we have an exceptional detailed and professional, business and marketing plan ready to share with investors. As well she facilitated all our branding development, ensuring we look professional to our investors. Troy built an outstanding website for us, combined with video to effectively present our offerings of vacation properties, special events and our restaurant business to foreign travelers from all over the world.
Troy and Dorene has provided exceptional video content for Pacsafe over the past year. With a product line that contains a range of technical and anti-theft features, They do an incredible job of showcasing the benefits of Pacsafe products in real-life travel settings. Would highly recommend them for any travel-related video production or content.
Troy edited a video montage that told the story of a life well-lived through the lens of more than 30 guests who'd appeared on the Good Life Project® web-series. His choice of moments, production value, editing and sound created an incredibly moving compilation that not only shared wisdom, but also filled us with emotion and represented our "brand" beautifully to the world.
Troy and Dorene have a unique combination of skills. They are authentic world travelers, and understand the travel industry from the viewpoint of a final customer and also of a B2B company. This helped us understand identify our strengths and opportunities. With Dorene's thorough skills in marketing, we received marketing consultancy in tandem with video creation with Troy's efficient and amazingly well-produced video work. They delivered a fantastic service and totally exceeded our expectations.
Creativity, Quality and Results. Troy and Dorene are absolute professionals who bring creativity and quality to their work. After a quick conversation, they delivered an awesome new promo video that has gotten a ton of attention for our food tours!
I knew when I first talked to Dorene about my marketing challenges, we would create great work together. She doesn't just say she will do something, she does it. She operates with a high level of honesty and integrity combined her years of marketing she uses facts, data with a method and approach that is organized. She listened, asked important questions, and invested time in understanding us while open to feedback to make the work better. The result led to defining my target market to better reach them and to communicate with them and helped us build the foundation of our purpose and what we stand for. She is also very resourceful and uses her contacts in all kinds of industries to help! I highly recommend Dorene for any marketing job.
I've worked with Troy and Dorene on projects for a few years now. Working with them is effortless as they are creative geniuses that will take your media and craft into a piece that tells a story that touches people at a deep level. There is always the right amount of information, combined with wonderful flow and succinct messaging. Whether you have a vision of what you want or you have no idea, they will make your project a beautifully unforgettable one. Can't wait to use Travel Life Media for my next video project!
Dorene and Troy worked with us at our animal recovery center in India for three weeks. They took the time to really understand our philosophy, what we are trying to do, and helped us develop a brand strategy that encompassed all of it neatly and cohesively. Throughout it all, they continued to check in with us to make sure they were reflecting our message. They created a brand plan, and several videos, that captured the heart of what we are trying to do in their content and one of the videos was even watched over half a million times!
Dorene was a pleasure to work with, exceeding my expectations with copywriting, branding, and web presence. We started from the beginning to build my brand and story. We used this story to create the copy for the website. She went above and beyond to research keywords for my website. She also helped my hierarchy of page structure, flow pages, and essential content. The potential guest will now find it easier to join my tours and experiences. They will know why, what, and who I am. In the past month, She supported me in opening up a Yelp business, Google my business, and Airbnb. Thus I have at least 1,500 more visitors to my site. I very much recommend Dorene and looking forward to working with her foreseeable future.
Black Cab Heritage Tours has significantly benefitted from our experience with working with Travel Life Media. We really wanted to work with Dorene after providing an honest assessment of our 'About Us' page. This was after we were lucky enough to be featured on a Tourpreneur podcast. From our first email exchanges through a (virtual) one-to-one session to the final delivery of her work (again provided virtually), the process was very professional. She had a great duty of care for our business and business requirements. We would have no hesitation in recommending Dorene. The end product went far beyond providing us with some amazing copy for our content. This was all backed up with great detail and depth in analysis reporting with spreadsheets and presentation deck, extremely impressed!
Dorene kindly reviewed my tour company website and she gave me some very valuable tips. Her explanations were very helpful and concrete. She is very good at explaining difficult concepts of SEO and marketing in a simple and easy way to understand. I followed her recommendation and I saw immediate results on my website's traffic.
You can have a conversation with us to see how we can solve your marketing problems.