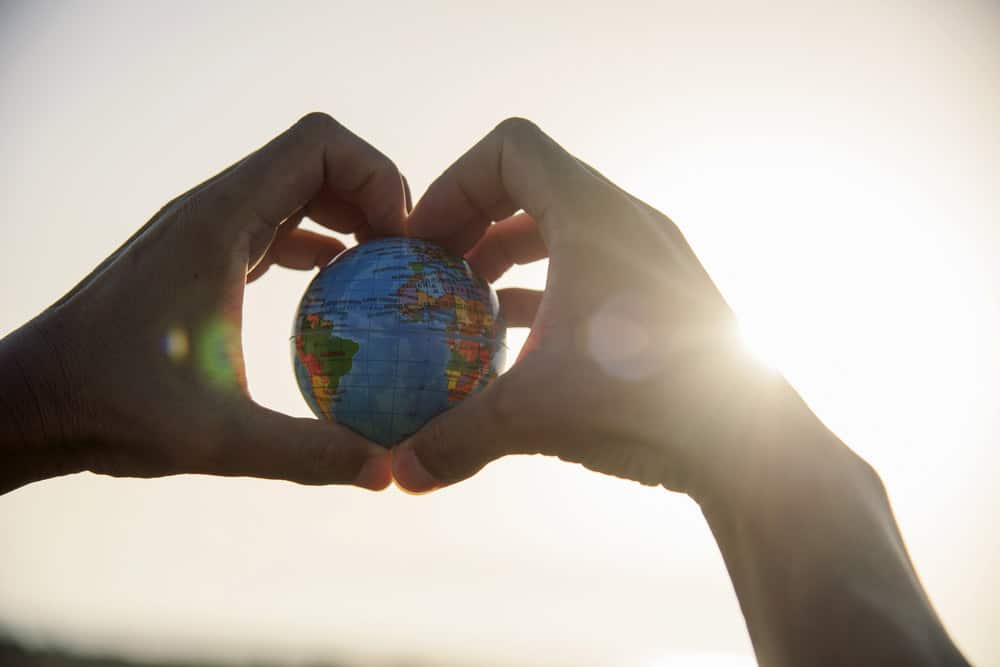 Climate change is a scary yet important topic to think about; it spans every single border and impacts every human and every culture. The impact of climate change and tourism is a more frightening scenario when you realize that Tourism accounts for 8% of all global emissions, 10% of all jobs in the world, 319 Million of us depend on it to survive. One country's entire tourism industry could be knocked out for years by a hurricane, or worse if the sea level waters rise for low elevation landmasses or island nations.
I wanted to make sense of all these issues, and what the current state is for climate change and tourism. I watched the live forum: Climate and Environment Action Forum by the World Travel and Tourism Council held in New York this last September. This 3.5-hour forum was an eye-opening and enlightening update with interviews and talks by industry leaders and panel discussions of industry and business addressing the hard topic: how the tourism industry can move faster and move together to impact climate change.
Key Takeaways from the Climate and Environment Action Forum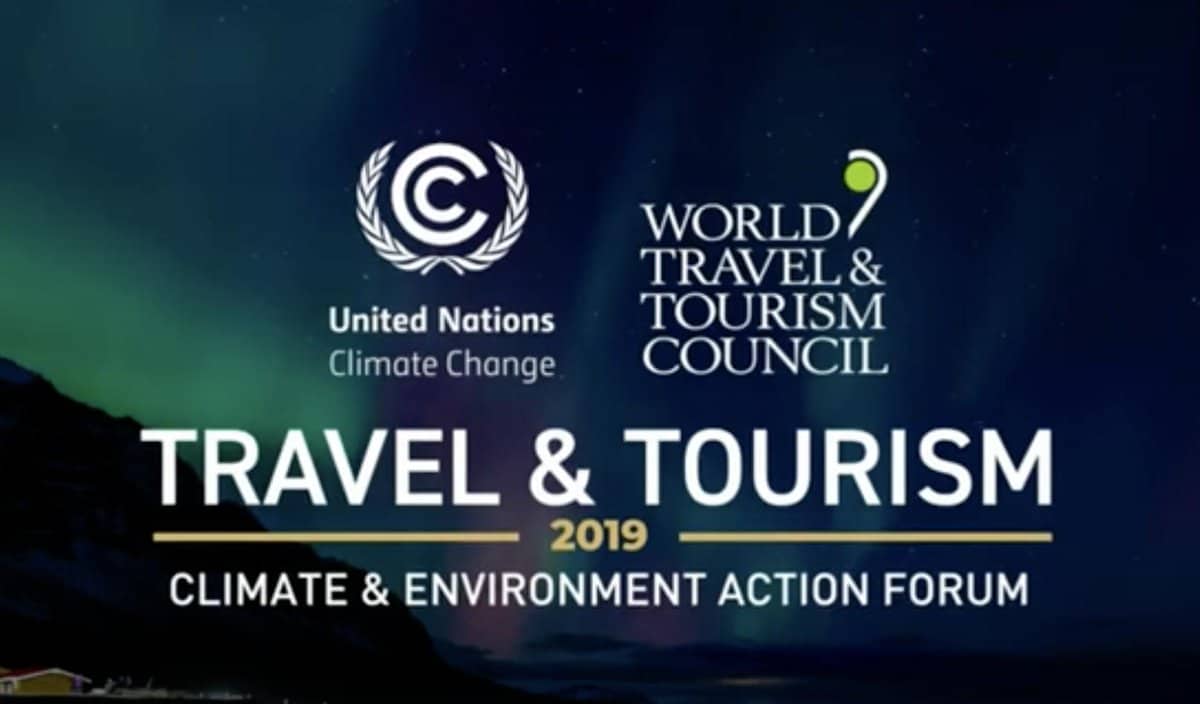 How can the tourism industry move faster and move together to impact climate change? This issue isn't about becoming sustainable to be competitive, sustainability is necessary to run your travel business.
•The forum's theme became: We need to change now before the change is forced upon us, mentioned by Gloria Guevara, President of the WTTC
•Plenty of good work is in progress, but it needs to happen faster and the role of the industry is to work together to make change happen and manage the industry goal of carbon-neutral by 2050. WTTC companies have offered to share all their information and know-how to help the industry move faster.
•One vital area to start is measurement – How can you get better on reducing waste, electricity, and finding better solutions when you don't have a starting point? Fortunately, there are helpful resources out there like the carbon disclosure project, that helps businesses get the data to measure their baseline and their reductions. You can find all the details at https://www.cdp.net/en.
2. What are destinations doing to reduce their carbon footprint:
Two destinations shared their challenges and plans on how they will cut their emissions:
a. New York City: Mark Chambers – Director of Sustainability, Mayors Office, shared the collective concern of NYC with their void of national leadership. So, they took it upon themselves to declare an environmental emergency – a declaration that created action to work with their local and state resources on an action plan.
NYC discovered that 70% of its emissions come from the heating and cooling of their 1 Million buildings in the city. Large buildings over 25,000 square feet will be measured and have a capital plan to meet the changes required to reduce their emissions. The city has created low-interest loans, so businesses don't have to deal with the substantial upfront costs.
The city is also preparing for the growth of electric cars – with building an infrastructure of fast charging hubs, which charge cars in 30min instead of 8 hours – to get fewer cars on the road – more electric and shared rides.
When it comes to tourism, 68 Million people visit New York City every year; they need to direct their communications to travelers to play a role in waste reduction.
b. Norway: Ola Elvestuen – Minister of climate and environment Norway shared that they are optimistic as many of their plans are happening faster than they originally planned.
Their plans include: banning the use of heating oil by 2020, reducing their emissions from transport by using 10% biofuels next year, and changing all buses to electric power by 2025 to get to net 0 emissions increase.
Other significant challenges: The cruise line industry – the start is creating big goals and restrictions to force change like allowing only 0 emissions cruise lines to go to the UNESCO world heritage sites or the Fjords by 2026. When business is at risk, it forces change.
Cargo shipping is a challenge they are working on as well as moving all car ferries, a mode of transport used in Norway, to fully electric. There is still work to be on transport like the use of more trains, continued sales taxes on cars based on emissions and regulations on heavy trucks.
An Egypt representative mentioned their approach to tourism, like creating Greenstar classification for reduced emissions in hotels, and plastic-free cities.
3. What are Accommodations Doing to Manage Climate Change on Tourism?
a. Hilton Hotels – CEO Christopher Nassetta, explained the challenge – the rise of the middle class has grown tourism, and they want to experience the world, which is a benefit to the industry and a burden to our climate challenge. But Hilton knew they needed to change. They doubled their expenses to figure out how to measure their climate impact; they needed science-based data to set goals, get approval from their shareholders, and compensate people against meeting those goals. As Mr. Nassetta shared that Conservation, must be a priority for their business because change at some point would be imposed against them. Making this kind of change, though, isn't easy with the complexity of 6000 hotels in 115 countries and 1Million rooms.
Hilton's process – called Lightstay – is their measurement platform to track their waste, energy, and water usage. It's allowed them to see their current state and put plans in place to that reduced their carbon by 30%, reduced their energy by -22%, their water -30%, including a goal of no soap ending up on landfills, resulting in the recycling of 9.6 million bars of soap. As well, all plastic straws and bottles are no longer served in hotels, along with digital plastic keys, which account for 40 tonnes of plastic. The investment paid out because it allowed the hotel chain to save more than $550 Million in costs.
Conservation initiatives are not about competition, it's our shared responsibility, and Hilton hotels will provide information to anyone to make conservation changes to their business.
b. Iberostar Hotels – Gloria Fluxa-Vice-chairman and chief sustainability officer of Iberostar hotels, shared their sustainability process. Iberostar is a family and privately-owned of 120 hotels, 140,000 employees, in 19 countries. Admittedly, she mentioned it was probably easier to bring her organization on board to sustainability without the need to convince shareholders, yet the challenge is operating in many different countries. They looked at their entire business chain to develop a sustainable platform. Their first pillar was removing all single-use plastic –which will be completed in 100% of their hotels in all 19 countries.
Their next sustainability pillar was looking at the oceans – as a top priority aspect of their business, as they operate in beachside vacation destinations. They now work in conjunction with WWF to contribute and educate their guests about marine pollution and global overfishing. This program led to looking at their entire chain – the seafood they buy, and what responsible seafood options look like while educating guests to understand the conservation choices they made. Their next mission is looking at the challenge with their laundry system and clothing fibers washing out to the oceans.
4. The Elephant in the Room – Aviation
Aviation and Oil – David Hone – Chief Climate Change Advisor for Shell Oil, spoke about challenges and opportunities in aviation.
Aviation is 40% of the emissions in travel and tourism; the other large percentage is transportation.
The biggest challenge is the time-cycle of planes– what is getting built today will be flown for 20+ years or more, so the cycle for change is exceptionally long.
-Some opportunities involve different fuel options Like Biofuels, as well as synthetic fuels, although the cost today is prohibitive mainly as it requires capturing CO2 in the air where we don't have the technology to do that yet. The same goes for Hydrogen as a fuel source, but that also requires more development for a solution to be viable. More near term solutions involve battery-operated planes for short-haul distances.
The larger opportunity is also looking at the entire ecosystem chain, from the power of trees taking out carbon and oil companies using CCS – Carbon capture and storage – which is a process used on a small scale with oil companies today. More work needs to be done on the wind, solar, hydro, and geothermal technologies for both aviation and shipping to get away from boilers/heaters to electric heat pumps.
The Dallas Fort Worth Airport and sustainability
Sean Donohue, CEO of the airport, shared some massive goals they have met, including their use of 100% renewable energy – as they purchase only wind-generated power for the entire airport.
-They also saw the opportunity with the number of buses they use and now have a fleet of renewable energy buses that capture methane – recycle it and inject it in the natural gas pipeline.
-They also built a new runway with wholly recycled materials from past building projects.
All these initiatives have reduced carbon emissions by 80% and reduced their energy costs by 20M dollars. They did admit more work is needed with plastics and food waste in the airports.
How does this airport get things done? They believe in finding the right companies to partner with, the ones that want to make change, and want to find solutions. Often it's younger people that pay more attention to this kind of solutions.
5. Does the investment community put funding towards Green Tourism projects?
As Marisa Drew, CEO of Impact and Advisor Finance – Credit Suisse and Curtis Ravel – global head of sustainable finance for Bloomberg mentioned:
•Investors want to invest in green, sustainable projects. A big shift has happened – in the past, companies got pressure from investors to stay the same, and now investors are putting their money into businesses that are changing.
•There is more interest now than ever from the investment community, in fact, the dollars for sustainable strategies are in excess of $30Trillion dollars to fund projects.
•Getting investment for sustainable projects is not an issue.
6. What can all tourism industry players do – regardless of size?
-Now more than ever, Storytelling and Education are critical to explain the challenges and show our guests the issues so they can connect the dots.
For example: Jamaica tourism charged a tax to inbound travelers. Once they explained that these charges were going towards their conservation plan, travelers were more inclined to pay.
– When guests can see with their own eyes the massive laundry facilities in a hotel, the water, and phosphates that are used, they are more inclined to hang up their towel and use it again. Conservation needs to become the new luxury.
– Green choices have to be easy for your guests. Make it easy for them to choose a better option for the other.
– We can't wait for regulation and legislation. Industries can have the power to make a change, and unfortunately, may be much faster than regulations.
– Ask your guests about how your tourism company can do better. Travelers see a lot of good examples of climate action around the world, their views and opinions count.
– We need to change our thinking – Climate policies and initiatives drive economic development. Climate action isn't a burden, and big companies see climate policies as an opportunity to be competitive. In fact, green energy can be cheaper! Solar power is down 65% in the last five years in 2/3 of the world green energy better than fossil energy. 75% of your employees want organizations to have a climate action plan
– We also need to change our thinking that there are tradeoffs to climate change. We need more nature in the future and tourism can be part of that. We need to see the economic value of preserving nature.
-Staff training, when you show your staff the opportunity and reward them for positive reinforcement – they see more purpose in their work, that their actions are going towards an important cause.
After watching this forum, there is a lot more work done than I originally thought on climate change on tourism but its hard to feel optimistic when the goals and the timeline this industry needs to band together to make it an essential element of business. Is this possible? After all, our industry and our livelihood depends on it.