Sustainable tourism is not just an option as a tourism business owner anymore. It's a necessary aspect of your business to survive. (and for any company in any industry) To do so, we need to look at our business and the world differently. In our last post, we defined and looked at the four areas of responsible and sustainable travel. Now, travelers speak out with their views on sustainable tourism examples from our industry.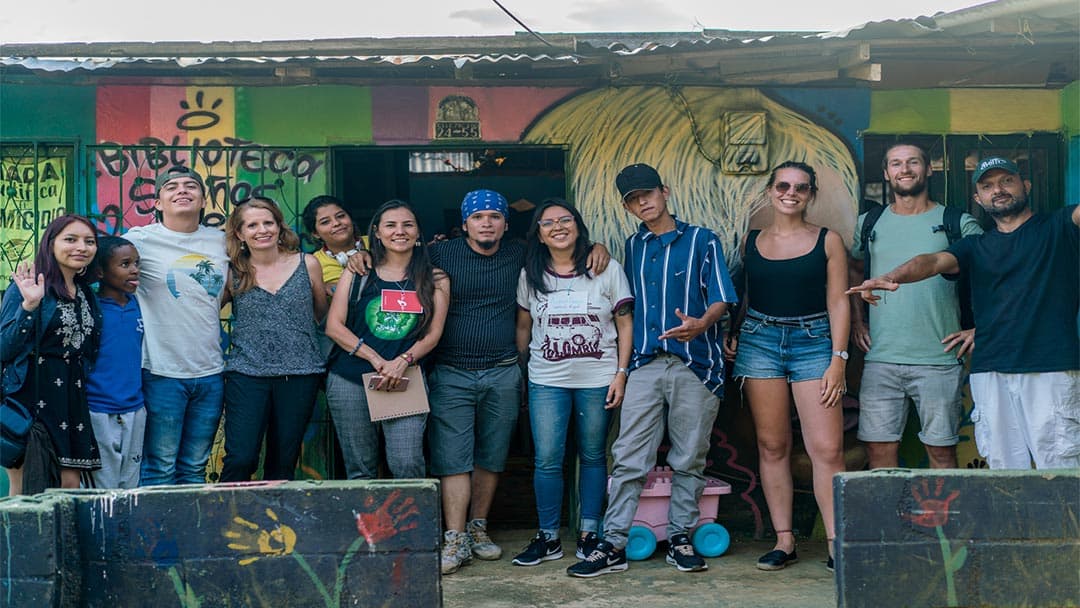 Community based tourism – peace projects in Medellin,Colombia.
Just like your tourism businesses, travelers are forced to change in this complicated world too. Now more than ever, they see brands differently. In fact, 87% of global consumers look for brands that place equal weight on society's interests AND business interests. This fact doesn't mean that 87% of consumers buy products this way, but it is a considering factor for them.
Long term travelers share their views about tourism companies with some sustainable tourism examples:
1. Conservation is a big topic with travelers
Long term and full-time babyboomer travelers Duncan and Jane from To travel too mentioned:
Sustainability means different things to different travelers, and some are passionate about different things like replacing plastic straws with environmentally friendly options, less use of plastic bottles, and looking for solutions for clean water in developing countries.
To others, they want to see hotels doing away with plastic toiletry bottles and water bottles in rooms. We traveled extensively throughout Vietnam, Thailand, and Cambodia and stayed in many hotels. Our focus was looking at the amount of plastic used and asked hotels and hospitality businesses how they were putting plans in place to reduce their plastic use.
2. When you show travelers what's important to you, there are travelers inspired by it.
One of Jane's most memorable sustainable tourism examples is from the Sofitel Angkor Phokeethra Golf & Spa Resort in Siem Reap, Cambodia shared a story on the wall of their hotel lobby about the owner of the Eco-Soap Bank – his purpose is to get soap for bathing into local villages. Before toxic laundry powders were used for bathing in rural communities, now the Eco-soap bank recycles soap from hotels from the Sofitel and distributes to local villages including in schools, hospitals, and orphanages. Even though other hotel properties support this project, the Sofitel made a point of communicating with their guests, what is important to them.
3. Travelers want to know where their tourism dollars are going.
Some travelers are conscientious of how their dollars are impacting the communities and the environment. Elizabeth, a full-time traveler from Thrivethisday wants the ensure her visit isn't causing further harm, like visiting restaurants that are sourcing their food locally, or hotels and tours that are paying a fair wage to their staff.
4. Ask Tourists to Help You Support Better Choices
Elizabeth responsible tourism example is when she appreciates it when a hotel asks guests to conserve water and to think about their choices in using linens and washing towels – we all play a role in conservation. Ocean and wildlife conservation are an important focus for Elizabeth, and she seeks out dive tour operators that are conscientious about reefs and sites they visit, and what they think about and invest some of her tourism dollars into conservation.
5. Ask for Traveler Feedback
In general, travelers are reasonable people; they are open to give feedback (if given the opportunity) instead of an impersonal comment box or to just ask for a review – which tends to happen very infrequently. It might be assumed that travelers want excellent customer service, but it goes beyond this. A tour, hotel, or attraction can ask us for feedback on issues that impact them, and how their travel experience can improve all around. Ask for feedback; its a vital part of being a relevant sustainable tourism company.
6. Educate Travelers. They Won't Know Unless You Tell Them
Often travelers don't know the issues, and challenges you are facing in your region, your area, or your country. Rachel, a long term solo traveler mentioned that she looks to tourism businesses to explain what is happening in their area. That is the reason why she books tours and guides. It's a privilege for us (travelers) to travel and also a duty to open our minds to understand and be empathetic to places that we are visiting.
Ivana, a long-term traveler from Nomad is Beautiful, mentioned that she and her partner make it a priority to buy servces from locally run businesses because they feel they learn the best about what changes a place has gone through and what a community needs the most. Also, they care about waste reduction and look for companies that are doing their part as well as educating their staff on their importance of doing so.
In Summary:
Travel businesses can learn a lot from their guests – as to what sustainable issues are important to them; you just need to ask. Consumers are changing, they are becoming more conscious about the issues around them, but to do that, tourism brands like yours need to educate them. Tell them your stories, help them understand your world. Don't discount that they want to see what's important to you. Your purpose, your causes matter, after all, don't we want our work and career to be fulfilling beyond just making money?
Tell us about your experiences with your guests and your sustainable and responsible tourism examples. How are you supporting your sustainable tourism goals and initiatives?