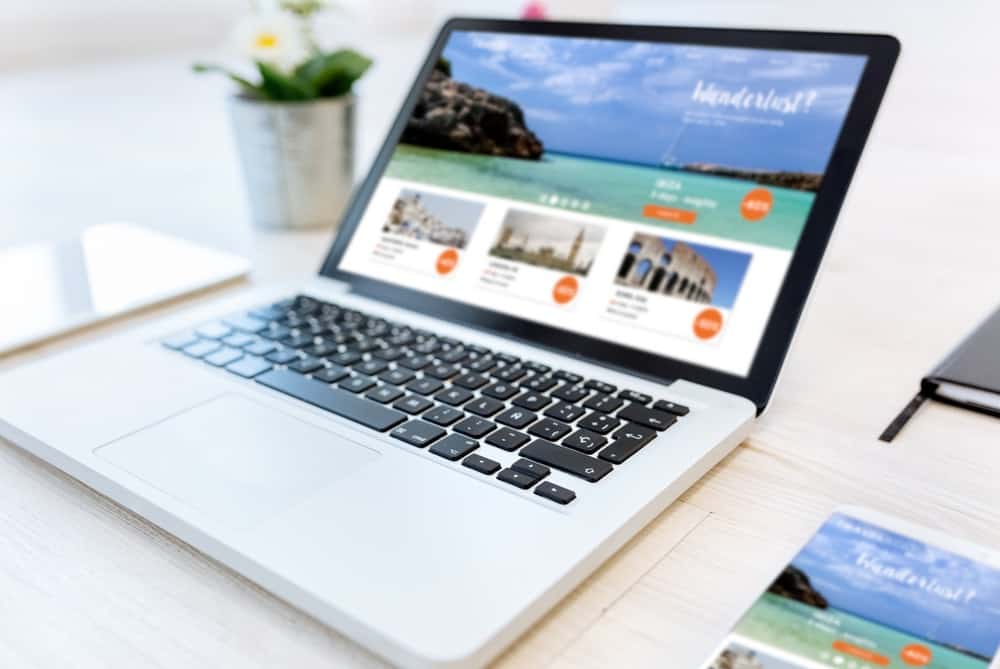 It's no surprise that in the tourism industry, the primary focus areas of your website are design and user experience. They do the big job of inviting travelers to read more and engaging with your website. However, your website copy can inspire, persuade and convert future travelers to guests, and improve the overall health of your brand. Tourism website copywriting is an important aspect of your website and it doesn't have to be scary. Here is what you need to know:
The Benefits Of Good Website Copywriting
1. It creates a personal connection.
We are emotional human beings who crave personal connection; this was a trend before CoVid19, it's even more evident. People want to buy from people they like and who share their values. In a world of fake news, make-believe stories on social media, and a "look at me"artificial culture, there is no better time to show your target audience who you are, and why your tourism business is important. How do I know this? Your ABOUT US page is most likely the Top 3 or 4 traffic pages on your entire site. The more authentic, and the better you can communicate who you are, the more guests will want to strike a meaningful interaction with you.

2. It gives your business credibility.
It helps communicate your credibility as a tourism professional, which helps in building trust. Your words can help convince a traveler to book with you, converting from a looker to a buyer. The better you can build trust, the more they know you can meet their needs and buy from your business.

3. It can persuade and convert and help travelers find you on the internet.This is the result. Your words play a big role in communicating, persuading, and converting prospective bookers at all sales funnel stages. What you say and how you say it makes a difference, and when you combine it with Search Engine Optimization practices – it will help you get discovered on the internet.
Copy Must Haves in a Covid19 World to Reduce Fear and Anxiety
There is nothing more important right now than relieving the fears and concerns on potential guests' minds. You can do this with good website copywriting. Travelers need to know you are open, AND that you care for their health and well being.
Here are the important steps:
Communicate that you care and you are making steps to make them safe. Use copy such as: "Your health and safety and our staff are important to us.
List your protocols step by step – what steps you are taking and what you are asking your guest to do?
Site a reliable source for your new standards – don't leave the traveler to guess whether the protocols are good or reliable tell them if you follow CDC guidelines, or your country or municipal guidelines. The WTTC (World Travel and Tourism Council have initiated the #SafeTravels protocols, you can find these Health protocols and guidelines here)
Make it easy for them to change and cancel – Losing money is a big fear right now, it will make people more hesitant to book at all, if there isn't an easy process if regulations and protocols change.
Don't underestimate the power of "Welcoming Back", and how happy you are to be back serving them and what it means to you.
Here are examples of a tour businesses doing a great website copy job for Covid Safety.
Eagle Wing Whale watching tours
Intrepid Travel Covid Communication
10 Top Tips for Improving Your Tourism Website Copywriting
Tourism business copy is a combination of several different types of writing, that is why it feels so daunting. It is a combination of fact-based copy(tour descriptions and FAQ's), creative copy(Service descriptions, the home page), persuasive copy (About us page), conversion copy (calls to action, asking for the same) and storytelling (About us, a service description). So your copy has to work hard to do all those things effectively.
Here are 10 tips to help you improve all aspects of your tourism website
1. Make a personal connection– share your passion and your views.
Who you are and what you stand for matters to your target audience. Because people want to buy from people that they like and who share your values. Some call this authentic, or real but the definition is that people want to buy from people that believe in what they believe. Did you know that your About Us page is top #3 of all website pages for traffic? That is because people want to know the people behind the business. Never be afraid to share your beliefs, what is important to you, and share your personal story. People want to support brands and people they like and who share their values. Why you do what you do is equally important to what and how you do it – So SHARE your Passion, and share your views! It's not a surprise that the best reviews you receive for your company are when guests mention specific tour guides and employees. That is because they made a personal connection with them, and it's the people that created their positive experience. Watch this video and I'll explain why your purpose connects with travelers. One way to improve your personal connection is to optimize your About US page. People want to book with people they like and who support their values. Optimize your page to create that connection. And you can use that content to help introduce yourself to future partners and travel clients, and gain publicity for your business through podcasts, interviews, and articles. Learn how to write a powerful About Us Page here. A mission statement or belief statement is another compelling way to make an emotional connection. These statements share why you do what you do. (your purpose). It is what moves you, and its how you contribute positively to your guests, your community, and the world in some way. I recommend you share this on your home page and about us page. Check out Impulse Travel's mission – and how they share their what, how and why, and Taste of Thailand Food Tours Mission and About PageA great example of this is Devour Tours in Europe have a strong mission statement that they share throughout their website and their marketing communication. Also check out the About Us page, and mission for Impulse Travel, these guys are crystal clear on who they are and what they stand for.
"Our mission is to connect curious travelers with local food and communities to help culture thrive. We crave food and travel experiences with a true sense of place and believe that travel is about immersing yourself in the local culture." Devour tours
2. Talk to your guest directly because you understand them and their needs.
Travel professionals like you are naturally curious – and the best way to learn about your target guest is what makes them tick. Who are they? What is important to them? -Listen, interview, and get feedback from your target guests because they will help you write your website copy. They will use the words to describe their needs, likes, and dislikes, which will improve the relevance of your copy. Not sure what to ask your target guest?
Download our target audience question sheet here.
Create a guest persona – a document that describes your audience to speak directly to them in your website copy. This is a summary description of your target guest, to help you recognize them, and explain who they are to your staff.
Write in the second person – use words like "you, yours "– as though you are speaking directly to the traveler you want to attract.
WIFM – What's in it for me? (well in this case – your target audience) When you are not sure, read a paragraph or sentence and think: "what is in it for my reader? " That will guide you to writing more customer-focused writing.
3. Talk like a human being, not a stuffy corporate entity.
You can still appear professional and credible without talking like you are a corporation. Speaking like a real human being goes a long way. That is why imperfect grammar, sentence fragments, and slang are perfectly ok if you relate to your target audience. The goal is your writing is open and approachable and speaks directly to them like they have been friends forever.
PLEASE remove any 3rd person talk from your copy. For example – you write a bio on your website that sounds like a magazine interviewed you.
Use "I, We" when talking about yourself, instead of He, She, or They. The "I" talk should be limited on your website. It is essential when you share your story, your mission, and experiences specific to you. Have you noticed that many brands send you emails from a specific person and not a business? That is because personal emails have higher open rates than emails that are from a company.
4. Use a brand voice relevant for your brand.
Every successful brand has three essential aspects of its brand personality. A brand is like a person; it has a style, behavior and voice.
Style= What your brand looks like– it is your design and style, the visual representation of your brand. It includes design elements, the colors, the fonts, and logos. This is the one area of a brand that we tend to focus on the most.
Behavior = What your brand does This is what your business does precisely. Depending on your business, your brand runs tours, hosts travelers at your attraction, transports guests around the country or you provide lodging for tourists to stay. Brand behavior is also how you run your business – the approach you take while running your business and the type of services you offer.
Voice= What your brand says and how you say it This includes your website copy on your marketing materials, and even how you answer the phone and what you say to current and future guests. It's no surprise that your brand voice, your brand copy, tends to hit the bottom of your priority list. Here is a way to help you define your voice. eg. What words would you use to describe how you talk? For example, is your brand funny or serious, loud or quiet, friendly, or sarcastic? Find 3-5 words from this list below that are consistent with the tone of voice for your brand. If you know your brand is fun and sarcastic (for example), then you will write your copy with that tone in mind.
Brand Voice – Descriptive words to describe your brands to write better copy

5. Benefits vs. Features- there is a difference.
Features and benefits are very different. Features are aspects of the service that you provide. It includes offering a private bathroom, or private transport or free airport pick-up, or bilingual guides. Benefits are how it will make a traveler FEEL. And feelings are more powerful because it helps the reader say, "Yeah, I want to feel like that." Strong benefit words include escape, relax, enjoy life again, feel like a kid again. Features are great for scanning and helping travelers compare, yet benefits are what make your copy speak to them.
Check out the About us copy for Rewind Dubrovnik and how they use benefit copy in their "Why choose us paragraph." This is a great example of letting your guest visualize how your tour experience will make them feel.
6. Rules of thumb to give your words more power.
Remove meaningless adjectives when describing your experience or service. Describe what your guest is going to see, do, and experience when they book with you. Avoid adjectives such as "stunning", "beautiful", "wonderful"– because they don't describe anything. Instead, paint a picture, use descriptive, objective adjectives like vast, expansive, moist, hearty, sweet, turquoise waters. Think about how your sentences benefit your reader, and answer what they are looking for. For example, Instead of "Stunning lakeside views" instead describe them as: "Expansive views and turquoise waters."
Verbs are your friend. Verbs are action words, and for a good reason, they are powerful. Because travelers want to do, see, and feel when they travel, right? Usually, these are active verbs like discovering, diving, eating, learning, and taking a boat to….
Put your most important words at the beginning of a sentence, and at the start of a bullet. These are usually verbs.
Remove filler words. Words that if removed, won't change the meaning of the sentence or they can be replaced with a shorter word. Some common pesky words that sneak in here are words like- a bit, kind of, really, quite or a little.
Read your copy out loud. Guaranteed, you will pick up on little errors, and when you hear it, some things will appear unnatural. Reading and hearing it at the same time will always improve your copy.
7. Make your copy easy to follow.
Whether your reader is a scanner of copy or not, you need your copy to be easy to read and follow.
Break up your copy with headlines, sub-headlines, shorter paragraphs, and different fonts and bolding to make it easier to follow.
For Tour page descriptions add summaries and details- include a summary page, detailed subscription page,what's included/not included sections and what to bring is extremely important. This will help because different readers will look for different things. Each piece of information will vary depending on where they are at in their buying journey. Check out two examples of great tour page descriptions from Taste of Thailand food tours and Impulse Travel.
8. Tell your guests what you want them to do.
Include one Call to Action on every page –It is human nature to respond when you direct readers towards something you want to do. i.e. Use commands like Search, Download, Read, Buy, Watch. Think about what is in it for them – in order to motivate them to act. A call to action is kinda strange isn't it? Think about when you ask someone to like a post or comment. Often your reader listens and shares it, and this works far better than when you don't ask for anything at all.
9. Never sacrifice good web copywriting for SEO.
Copywriters should also know how to write for SEO, and SEO people should know how to write copy. The clarity in your copy should never be sacrificed to fit in a keyword, or to stuff in too many keywords. Complete a keyword search first, then you have those words in mind while you write, instead of forcing them in later. Visibility on search and persuasive writing can both be achieved. Check out our video tips on how to improve your SEO.
10. Write with the customer journey in mind.
Think about what stage your reader is in when they are reading sections of your website. For instance, if they land on any page on your website, they need to know what you do. Your home page needs to tell then in less than 3 seconds what you do.
The main headline accompanied by an inviting, captivating photo or video is a must. (Better yet, is a tagline that brings in emotion, purpose, and what you do all in one. This is much harder to do, and you need a copywriter involved.)
Include a strong credibility statement on the top of your homepage (i.e. Since 2010, serving 5000 happy guests or a credibility statement like 400- 5 star Google reviews and counting…). A credibility statement on the top provides a strong queue to build trust very quickly as trust will be a top factor in their decision to click to something else and read more.
Book now button above the fold of your homepage? – I have strong opinions that a book now button at the very top of your website homepage isn't inviting. If the reader knows nothing about you, this comes across as too salesy. However, you can use data from Google Analytics and a service called Hotjar to guide your decisions of what sections and what clicks are working on your website.
But what if you aren't a web copywriter? Can you still do this?
I get it, copy takes time to perfect it, and you have a business to run. However, the more you learn about your audience and test and try copy, the more you can improve it. I believe that copywriting has to start with you. If you are the owner, the marketer, the managing director of your business, you will understand your business, your competition, your target audience better than anyone. Start with a short outline of bullet points, then small paragraphs to express what you want to say – and then you can get a copywriter to polish it and optimize it.

These tips are designed to help you refine and fine-tune your website copy. When you update your website copy, PLEASE also update your Google My Business Page with copy, details, and service descriptions.

For more tips to improve your marketing check out our resources page, look up the topic, and find answers to your tourism marketing questions.
On Pinterest? Save this for later.